| | | |
| --- | --- | --- |
| | Need to know for Models (and Riggers) | |
Clover from Ropetopia hat made a real good Guide for models. You can download it here.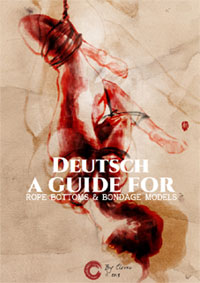 For your preparation a good Text from Felix Ruckert :
GUIDELINES FOR NEGOTIATION AND ESTABLISHING CONSENT
Before you start as model, you have to check your wishes, the wishes of the rigger, your knowlegde and the knowlede of the rigger. Ask othe people of the rope-community, if you are not sure. We are all humans and we all make mistakes. To avoid most of the, you need a good negotiation.
If you are in the ropes, your rigger always need to know, how you feel and about possible problems.
Matthias aka Drachenmann is looking for Bondage-Models who are willing to work with him for new photoseries which could be published at the Gallery-Pages of Bondage Project.
Important:
A special kind of exhibitionism
Personality and the possibility to let go
A willing interest for experiments
The readiness for a journey together
and the right interest for rope bondage
Not important:
Messurments like a "Model"
Experiences with bondage
A Sed-Card
No money to earn (TFP-Shooting). The only fee is the CD with all pictures of the shooting in high resolution. You are allowed to publish these pictures yourself on your page or somewhere else (with mentioning who has done the bondage and the pictures).
Contact: mtjg@schlagzeilen.com
Matthias
Here you find a sample gallery!